Our effort towards quality and the respect for the environment
For our company, the improvement of products and services quality we offer to our clients is a constant.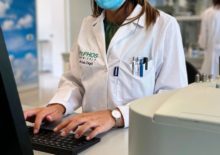 For our company, the improvement of products and services quality we offer to our clients is a constant. A cornerstone that involves every single worker in each step of the production cycle of the product or service.
The adoption of a quality management system is a strategic decision that helps us not only to enhance our performance, but also to build a solid base for a sustainable development. In fact, we feel that we have a great responsibility for the environment around us.
The EMS (Environmental Management System) certification – ISO 14001:2015
Our company has decided to adopt a systematic approach to the environmental management, through the implementation of an environmental management system, recently certified (ISO 14001:2015) by Certiquality Srl: a great achievement for us!
The aim of making our own contribution to the environmental pillar of sustainability is a fundamental step, and it shows a serious and lasting commitment to:
Protect the environment from pollution
Efficient use of the resources
Proper waste management
Prevent the climate change, the decay of ecosystems and the biodiversity loss
Support the sustainable resources use.
In other words, we aim to minimize the environmental impact at every stage of the production process, taking the needed actions and processes.
This achievement makes us proud and, at the same time, encourages us to commit ourselves day by day to maintain the best quality standard.
Our Quality Management System – ISO 9001:2015
Since the Nineties, our company has had a quality management system in compliance with ISO 9001:2015 certification: a proof of the will to improve and pursue our quality policy. Maintaining this certification means past, present, and future efforts in providing an optimal internal management system and ensuring an overall efficiency, productivity and quality, as well as an active anti-waste policy.
We want to highlight our commitment to provide products and services in line with the regulations and requirements and, at the same time, be able to suit our customers' needs.
We are proud to have passed this year's audits, in order to obtain these internationally recognized certifications. Achievements that spur us day after day to improve and increase the satisfaction of our customers.