The Dema micro granule
.
Microgranular fertilizers
Innovation
The micro granule
In agriculture, an element as precious and limited as phosphorus must be used in a targeted and functional manner. Phosphorus, but also nitrogen and potassium, should be administered to the plant in the first stage of growth adopting the most efficient and optimal method.


Uniform grain size

Characteristics
Today, the micro granule is the only truly innovative and highly sustainable option, capable of ensuring significant, concrete and measurable growth performance in plants.
Germinazione
ottimale

Eccellente
radicazione

Rispetto
dell'ambiente

Ottimizzazione
dell'utilizzo del fosforo

Best
quality/price ratio
The Dema micro granule
In our cutting-edge laboratories, we have created a superior quality micro granule, which, measuring the main parameters, is more effective than all the products currently on the market. Depending on the type of crop, it ensures:
up to 10 times greater yield, tested and documented in the lab and in the field, which translates into considerable economic savings
a more robust and resistant plant: in the greenhouse, root and leaf growth increased by up to 15/20% and plant height increased by up to 20-30%.
In addition, our fertilizer has the following characteristics:
Uniformity of product
Grain size / Dimension Ø 0.5-1.2
Micro granule homogenization through an exclusive production system
All the nutrients are found in every single micro granule
Controlled humidity
Totally dust-free
Easy spreading (fits all micro dosing cups)
High solubility
Localized nutrient application
High phosphorous concentration
Greater formation of secondary roots
Totally eco-friendly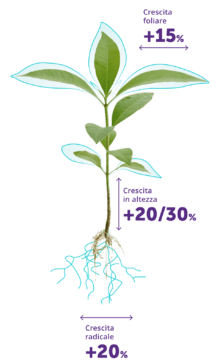 Benefits
Optimum germination
Excellent rooting
Eco-friendly
Optimized use of phosphorus
Improved quality/price ratio
The Dema micro granule offers the highest guarantees of yield, efficiency and performance, in a totally eco-friendly way. The excellent quality/price ratio, the option of immediate delivery even for small quantities, comprehensive advice and the services available to distributors and farmers make this product the best possible solution for a vast range of crops.